Do not cross the cookie border!

This article is archived. It is considered no longer relevant in-game, and the information inside this article is taken from a very outdated version of the game, or from LINE Cookie Run.
Collect Magic Runes (also known as Let's put the Dragon back to sleep!) is a limited-time event in which players have to collect specific magic runes to complete each set of Magic Circle to put the Dragon back to sleep. There are 3 kinds of Magic Circle players have to complete to obtain all the rewards. Magic runes float in bubbles and cannot be attracted with magnetic aura throughout the stages.
Unlike other events, this event only lasts for one week. Ghost Pirate's Island of Coins and Tower of Frozen Waves are excluded from the event.
List of Magic Circles
Edit
First Magic Circle

Rewards
1

10
10,000
Second Magic Circle
Rewards
1

20

5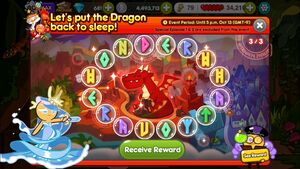 Third Magic Circle
Rewards

1

30

1
It is not necessary to obtain some magic runes, such as the numbers.
Blackberry Cookie's Paranormal Activity, Peppermint Cookie's dolphins, and Cheeseberry can help pick up the bubbles for you, making it easier for you to gather the magic runes.
Auto-farming may also help you to gain magic runes bit by bit.
The words used to make the dragon go to sleep is the lyrics to a famous nursery rhyme.
Community content is available under
CC-BY-SA
unless otherwise noted.