Do not cross the cookie border!

This article is archived. It is considered no longer relevant in-game, and the information inside this article is taken from a very outdated version of the game, or from LINE Cookie Run.
Monsoon Season is coming! Collect Rain Boots for Cookies!
―Newsletter in Mail Box
Where are my rain boots?
Collect Rain Boots is a limited-time event in which players have to collect fifteen rain boots for Cookies to obtain the rewards. Rain boots float in bubbles in episodes excluding Ghost Pirate's Island of Coins and Tower of Frozen Waves. Like most flying jellies, these ingredients cannot be attracted with magnetic aura.
List of Rain Boots
Edit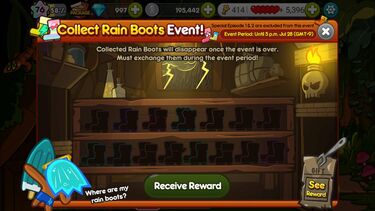 Cotton Candy Cookie's rain boots were featured in this event, despite being an upcoming Cookie at the time of the event. This is possibly because this event occurred after the release of Cotton Candy Cookie in the Kakao version and LINE decided to not make changes.
Items not included in the table above can be ignored. Such items include ice cream, nuts, drum sticks, fish, tacks, bones, carrots, mangoes, stars, sugar cubes, and pink peppermint candies.
A rain boot could still appear even after you reached the required number of that rain boot.
Rain boots may continue to appear in the same game after you collect the very last required rain boot. However, rain boots will no longer appear in any of the plays henceforth.