Fire Emblem Warriors: Three Hopes - The Loop
Play Sound
Cookie Run: OvenBreak (often shortened as CROB) is a game created by Devsisters, released on 26 September 2016 in Canada, Sweden, Netherlands, Philippines, Hong Kong, and Australia, with a pre registration event that is no longer running.[2] Cookie Run: Ovenbreak has since released globally on 27 October 2016, except for China.[1] This is the first game that Devsisters has released since they launched LINE Cookie Run on January 2014, and marks their departure from using the LINE and Kakao instant messaging platform.
While Cookie Run: OvenBreak retains most attributes from the previous Cookie Run, including the side-scrolling arcade gameplay and much of the graphics, it significantly changes the scoring and leaderboard system, while also introducing brand new Cookies, Pets, and Treasures. It includes mechanics not previously implemented in LINE Cookie Run and Kakao Cookie Run, such as Champions League, Guilds, and a Breakout Mode.
Differences from Cookie Run
There are multiple game modes, with the primary one being Trophy Race, a real-time competitive PVP (player versus player) mode. A new Guild system was added, with team-based Guild Runs.
The camera is allowed to zoom in or out more, bringing the addition of sections with more vertical movement and stages with alternate paths.
Some Cookies' and Pets' abilities and combination bonuses have been changed. The addition of Magic Candy can greatly change a Cookies' abilities.

Many Cookies and Pets are brand new, including the crossover characters Hello Kitty, Mimmy and Cookiedroid, while others from previous games have not been included.

Treasures have been greatly changed, no longer needing to be evolved, and leveled up by collecting duplicates, similarly to Cookies and Pets. There are far fewer Treasures, most being new to OvenBreak, but there is less overlap in their effects. There is no longer limited space for holding Treasures.
XP is no longer gained from running. The replacement for XP is Escape Levels, gained from upgrading Cookies, Pets and Treasures.
POWER+ abilities are almost completely absent, with the only two POWER+ abilities on Treasures, Firm Friendship Ring and True Friendship Pendant, both with temporary effects that have expired.
Boosts are also removed, with the option to use a Relay restricted by game mode. New Boosts appear only in the special Island of Memories game mode.
Cosmetic Costumes, Jelly Sets, Lobbies and Titles are available to customize aesthetics. Costumes are obtained through a new currency, Rainbow Cubes.
The Life system was abolished, but there is now a limit on how many times each Cookie can run for before having to rest.

The number of running times and recovery time are as follows:
Cookies








Cookies are the main playable characters, each with unique theming and skills. They are the runners who must dodge obstacles and pits and collect Jellies. The majority of LINE Cookies returned to this installment, with new Cookies introduced alongside. Either one or two Cookies are released each month, and older Cookies are often buffed with Costumes, Magic Candy, or simple statistic improvements. Since the Season 6 Update, all Cookies have the maximum level of 15. Cookies are classified into five rarities.

Common Cookies are weak Cookies that are easy to obtain, all being unlocked from the start. Many copies of them are needed to fully upgrade them. There are only four Common Cookies, all from previous games - GingerBrave, GingerBright, Strawberry Cookie, and Skater Cookie.

Rare Cookies are available from every kind of Chest in the Gacha, so they are naturally collected in large amounts. Some Rare Cookies can be surprisingly useful, as they receive Magic Candy and other upgrades, sometimes overshadowing even Epic Cookies. There are 17 Rare Cookies, with only one brand new one, Pilot Cookie.
Epic Cookies are the most numerous rarity of Cookie, as most newly added Cookies are Epic. They tend to be strong, but the large amount of them means there is a lot of variation in their power. The main way of collecting Epic Cookies is by spending Crystals on Special Cookie Chests and Supreme Cookie Chests, or using Spirit Potions on them. The amount of them is constantly increasing.

Legendary Cookies are a small group of powerful and flashy Cookies that are not easy to accumulate. They only appear in Gacha chests with a 1% chance, and Spirit Potions cannot be used on them. Legendary Cookies are received from other shops, including the Breakout Shop, Guild Shop and Medal Exchange, or as Breakout Rewards. They are very difficult to collect. Some Legendary Cookies have a Legendary Combi Pet, while others have an Epic Combi Pet, or no Combi Pet at all.

Special Cookies are promotional Cookies that are available during Events, and are very difficult to obtain without spending real money. There have been only three Special Cookies - Hello Kitty and Mimmy promoting Sanrio, and Cookiedroid promoting the Google Play Store. Special Cookies require less copies to level up.
Pets









Cookies are always accompanied by a Pet, which provide support abilities, use Magnet Jellies, and carry the Cookie to Bonus Time. Nearly all Legendary Cookies have a special Combi Pet, which provides a bonus when the Cookie and Pet run together. Unlike LINE, there are no Cookies with multiple associated Pets, and the only Pets without a Combi are certain Legendary Pets. The majority of LINE Pets returned to this installment, with new Pets introduced alongside. Pets come in the exact same Rarities as Cookies, and are obtained in similar ways, only available from Pet Eggs instead of Cookie Chests.
Treasures








Treasures are equippable items that provide special effects. The most common effect is to create unique, high-scoring Jellies, but other effects are available. Up to three Treasures can be equipped at the same time. Treasures are leveled up by receiving multiple copies of the same Treasure, and there are far fewer Treasures in OvenBreak than in LINE. There are no Draw Seasons or limited Treasure spaces, and Treasures can't be sold or extracted. The maximum level for Treasures is 12, and level 12 Treasures can be enhanced for additional effects. Most Treasures are Rare or Epic. Unlike Cookies and Pets, no Common or Legendary Treasures exist, but there are POWER+ Treasures (since expired) and Special Treasures.
Game Modes
Trophy Race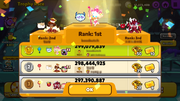 In Trophy Race, the player can choose two Cookies: one to start with and a relay. The goal is to gain the most points whilst competing with up to nine other players within the set time limit. After the time limit expires, the players will have their scores ranked, and receive a reward based on ranking.
One of the two rewards are Gold Tickets, ten of which can be used to open a Gold Chest. The player in first in a Trophy Race receives ten tickets, and lower ranked players receive less. The second of the rewards are Trophies, which can be obtained or lost based on how well the player scores. The amount of Trophies a player has determines which Land the player can participate in. Reaching higher Lands unlocks new Cookies and Pets, and collecting enough Trophies in the final Land unlocks the Champions League.
Breakout Mode
In the Breakout Mode, players relay run with a limited number of Cookies in three different episodes. The number of Cookies allowed varies from only three in Black Sugar Pirate Ship and The City of Wizards, to 12 in Escape from the Oven. Breakout episodes occasionally rotate, usually at the start of a new season or event. Each Cookie, Pet and Treasure can only be used once. Participants receive a weekly reward according to their best score, which includes Legendary Cookies or Pets at high enough scores. Legendary Cookies and Pets can also be bought at the Breakout Shop with Light Spheres, a currency collected in Breakout Mode.
Cookie Trials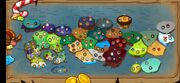 In Cookie Trials, you can play specially-designed levels for a specific Cookie and Pet. Cookie Trials disable Magic Candy Blessings, Escape Level, Cookie Cheer Squads, and Affection effects, putting players on more equal footing. Each trial has a total of 16 ranks that can be reached by getting a certain amount of points, and 25 bonus missions that can be completed to gain rewards. For a month after the beginning of a Trial, there is a New Cookie Cup, with further rewards for each rank and a final reward of Crystals and Spirit Potions for players who reached Diamond Rank, based on how well they scored compared to others. Since Cherry Blossom Cookie's release, every new Cookie released also gets a new Trial.
Champions League
In the Champions League, champions compete in three different stages using a limited amount of Cookies and Pets. The three stages change from season to season, with each season lasting two weeks. The total scores for the three arenas will be combined to be ranked globally. Getting a top score globally will lead to more valuable rewards, including a profile frame and commemorative statue. All players can pay tribute to statues of the top 3 scorers daily to get small rewards in the Hall of Fame. To qualify into the Champions League, a player needs at least 10,000 trophies earned from Trophy Race.
Island of Memories
The Island of Memories is a set of 3 islands, each with 50 stages. Each island corresponds to a certain Cookie (Hero Cookie, Cheerleader Cookie, and an island shared by Dr. Wasabi Cookie and Mustard Cookie). Each level has 3 stars to earn by completing different objectives. Each island also has a different boss, focusing on unique mechanics not seen in any other mode. Rewards can be earned by reaching certain amounts of stars in each island. Special Boosts can be used to make the stages easier. Like the Special Episodes of LINE Cookie Run, Winding Keys are spent to play on the Island. They recharge over time to a maximum of ten, and can be crafted.
Guilds and Guild Runs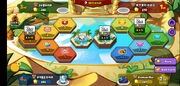 Joining a Guild allows players to socialize and cooperate with other players in the Guild, compete with other Guilds in Guild Runs, and earn unique rewards from Exploration Quests and the Guild Shop. The creator of a Guild is the Guild Leader and can start Guild Runs, cook meals in the Guild Kitchen, kick players from the Guild, and promote other players to Guild Officers to allow them to do the same.
Guild Runs are competitions between four Guilds, where members of a Guild all run in up to four randomly selected Arenas, and their combined high scores compared to the other Guilds determines the winner. Running in Guild Runs gives a player a Seasonal Reward of Guild Coins, Coins, and Crystals, and winning Guild Runs awards Guild Coins and causes the Guild to rank up to receive better rewards. Each Guild Run Season lasts for two months. The current season determines the Season Items in the Guild Shop and the available Arenas, as well as any additional Season Rules and Recipes.
Event Game Modes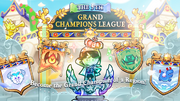 Grand Champions League
The highest level of competition is the Grand Champions League, only accessible to those who received an invitation by scoring in the top 10% in the Champions League. It works similarly to the Champions League, but with only one Arena playable at a time. Only a certain amount of players can advance on to the next Round, and after a month, a single player is crowned Grand Champion. Advancing far enough rewards Crystals, Titles, and some special Costumes, as well as a special Puzzle Key, used in the Curious Rainbow Mine. Players who are not running can practice the Arenas and Cheer for other players, receiving rewards if their chosen Champion wins the current Round.
Friendly Run
Friendly Run is a limited time mode where two players can do a live run together and cooperate to collect Pirate Coins and gain points. Cookie skills are disabled, but certain Cookie combos can give bonus effects, such as GingerBrave with GingerBright providing extra health. Friendship missions can be completed to gain rewards. Because collecting Coins in Friendly Run is easy, a maximum amount of Coins can be earned per day.
Custom Runs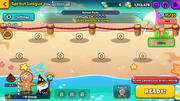 Custom Runs is a limited time mode that allows players to customize a match and choose the map and combi for the run. Other players can then join and run with the same settings and try to get the best score in the time allotted, similar to Trophy Race. The Cookies, Pets, and Treasures may be specifically set, randomized, or be chosen by each competitor. Custom Runs can be public or private, and can have a custom title.
1vs1 Race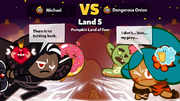 1vs1 Race was a mode included in the global launch, that was later removed and replaced by Friendly Run. In 1vs1 Races, you would compete against a friend for the highest score on a chosen Land, including the exclusive Land Monstrous Flower Garden. The person with the highest score would win and take the loser's Coins that had been acquired in their 1vs1 race attempt. After five victories, a special Chest could be opened.
Events
Major Updates
It came to me in a dream...

The title of this article, as well as potentially other terms used within it, is conjectural. This is likely due to a lack of appropriate information within the game itself. These names and terms may be entirely conjectural or based upon file names. If ever officially given, the conjecture on this page may change to the official wording with little notice.
Season 1
Soft Launch

Release Date: September 26th, 2016
Global Launch
Release Date: October 24th, 2016
New Mechanics: 1vs1 Race
Christmas 2016

January 2017 Update (Champion's League)
March 2017 Update
April 2017 Update
May 2017 Update
Summer Update 2017
Season 2
Wicked Breakout Party

1st Anniversary Update
December 2017 Update
Holiday Update 2017
Winter Sports Festival Update

February 2018 Update

March 12th, 2018 Update
Release Date: March 12th, 2018
New Cookies:
New Mechanics: Cookie Trials
March 26th, 2018 Update
Release Date: March 26th, 2018
New Mechanics: Land 8
Season 3
Secrets of the Lost City

Chili Pepper Cookie Update[3]
Grapefruit Update
Release Date: June 26th, 2018
Black Sugar Pirate Ship

Friendly Run Update[4]
Release Date: August 30th, 2018
New Cookies:
New Mechanics: Friendly Runs, POWER+ Treasures
The Legend of the Millennial Tree
Release Date: September 28th, 2018
New Mechanics: Jelly Sets
Grand Cookie Party

Release Date: October 24th, 2018
New Mechanics: Affection, Relationship Chart
Hello Kitty's Surprise Visit!
Merry Winter Parade!
Grand Champions League

Carrot Clash
Guild Adventures
Release Date: March 27th, 2019
New Mechanics: Guilds
Cyborg Menace
Flames of Glory
Release Date: May 29th, 2019
New Cookies:
New Mechanics: Guild Runs
Mighty Duo
Season 4
Sands of Yogurca
Cheesecake Manor Mystery
The Dragon Awakens

Happy Cookie Festival
Jolly Winterland

The City of Wizards: The Wizard Archives
Valorous Champions League
Happy Healthy Hamlet
Legends of the Dragon Isles
Dreamy CookieLand
Martial Arts Champion
Tower of Frozen Waves

Season 5
Secret of the Lost City
Spooky Spider Mansion

Glittering Cheddar Mine
Operation Timeguard

Dazzling Year's End Party
The Dangerous Exchange

The Hidden Truth of the City
Fabulous Pudding Cup Circus
The Battle for Fate
Super CookieBots
The Butter Painting Affair
Season 6
Yogurt Dunes Escapade
Tales of The Wishing Lotus
The Dragon's Garden Paradise

Super Fashion Week

Labyrinth of Remembrance

The Miracle of Winter Gifts
Save the Future!

The Witch's Mystic Attic

Crispy Dough, Sturdy Bones!
The Isle of Awakening Dragons
References
Game Modes

Trophy Race (Lands) • Breakout Mode (Shop) • Cookie Trials • Champions League (Medal Exchange) • Guild (Guild Run • Guild Shop) • Island of Memories • Treasure Trials

Collectibles

Cookies (List) • Pets (List) • Treasures (List)

| | |
| --- | --- |
| Cosmetics | Costumes (List) • Jelly Shapes • Lobbies • Titles • Music Box |

Currencies

Coin • Crystal • Magic Powder • Rainbow Cube • Spirit Potion • Winding Key

Mechanics

Affection • Bonus Jars • Bonus Time • Burning Days • Cookie Cheer Squad • Energy • Escape Level • Gacha • Lobby • Magic Candy • Magic Laboratory (Ingredients) • Quests • Trophies • Diary • Invocation Cards

Others

Tutorial • Jelly Points • Preferred Lobby Gifts • Prize Coupon • Story

Legacy

1vs1 Race • Cookie Quests • Mystery Boxes • Jelly Mission • Daily Quests