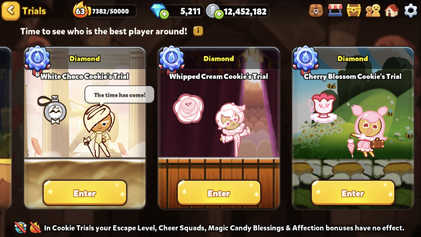 Cookie Trials is a mode introduced into Cookie Run: OvenBreak alongside the release of Cherry Blossom Cookie on March 12, 2018.
Mechanics
Edit
Cookie Trials is a ranked mode where players run with the featured Cookies on unique stages with certain restrictions.
Restrictions in Cookie Trials include:
Escape Level, Cheer Squads, Magic Candy Blessings,and Affection bonuses have no effect.
Treasures in Cookie Trials are capped at Level 7. Gingerbrave's Trial Redux is uniquely capped to Level 1, and Hero Cookie's Trial has them capped at Level 4.
Starting from Adventurer Cookie's Trial, the maximum efficient level on Trials for Epic Cookies and GingerBrave's Trial Redux is capped at Level 11. For Legendaries, it is Level 3, and for Rares, there is no cap.
Based on how well a player scores, they will receive rewards in the Trial Goals. There are also a total of 25 Bonus Missions per trial, which can reward players items (most notably, Magic Candy ingredients) in return for doing certain tasks.
Players are able to play a Cookie's Trial, regardless of whether or not the Cookie is owned. However, Trial Goals and Bonus Missions are locked until the featured Cookie (and the corresponding Pet) are owned. Players are also unable to rank during this time.
New Cookie Cup
Edit
Whenever a Cookie receives a trial, there is a time period where players can participate in the New Cookie Cup. During this period, players can receive additional New Cookie Cup Rewards in the Trial Goals.
At the end of a New Cookie Cup, Players will receive a certain number of Crystals and Spirit Potions based on how well they scored.
Attributes

Cookies (List) (Cookie Upgrades) • Pets (List) (Pet Upgrades) • Treasures (List) • Cookie Cheer Squad • Template:Costume Costumes • Magic Candy (Ingredients)

Currencies

Coin • Crystal • Rainbow Cube • Winding Key • Template:Spirit Spirit Potion

Collectibles
All Jellies' points • Template:CookieChest Shop Chests (Chest Keys) • 30px Trophy Chests • Bonus Jars • Trophies
Others
Tutorial • List of Lands • Practice Mode • Champions League • Bonus Time • Escape Level • Energy • Trophy Race • 30px Jelly Mission • 30px Island of Memories (Stage) • 30px Burning Time • Breakout Mode (List of Chapters) (Mystic Jewels) (Mystery Boxes) • Cookie Cheer Squad • Cookie Trials • Friendly Run
Legacy
Community content is available under
CC-BY-SA
unless otherwise noted.