Do not cross the cookie border!

This article is archived. It is considered no longer relevant in-game, and the information inside this article is taken from a very outdated version of a currently active game, or is about a terminated game.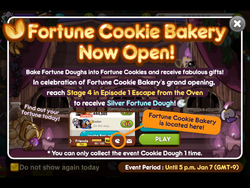 Find out your fortune today!
―Prophet Cookie on Fortune Cookies
Fortune Cookie Bakery is a new feature first introduced in 21 December 2015, along with the release of Special Episode 2: Tower of Frozen Waves. With this feature, players can bake Fortune Dough in order to get various rewards.
Earning Fortune Dough
There are a few ways to earn dough for you to bake in the Fortune Cookie Bakery.
Several missions in the Tower of Frozen Waves rewards you with extra dough.
Possibly getting another dough after opening a baked Fortune Dough, although this has a low probability.
Limited-time Events will sometimes give you dough if you meet their requirements, such as attaining 90 million points or 50,000 coins, to name a couple.
Occasional prizes for Daily Bonus starting on December 21, 2015.
If you are all out of dough and exhausted all possible ventures to obtain one, all you can do is wait for more Tower of the Frozen Waves missions, daily prizes or limited time events to give you more dough.
Fortune Cookie Ovens
Very similar to equipping treasure slots, players can bake up to three Fortune Cookies at the same time. The first oven is always given for free since the release of the bakery, but the second and third ovens must be unlocked before it can be used. Players can unlock them either by using Crystals or reaching the unlock requirement. If players decide to reach the specific goal, they can buy the ovens using Coins, for
120,000.
Slot
Unlock Goal
Unlock Price
First
Free
N/A
Second
Own 51 Cookies
149
Third
Reach Level 75
Fortune Dough Space
You can only have up to 9 Fortune Doughs on your tray, and once your tray is filled, the rest of the Fortune Dough will be kept in the Rewards section in your Mailbox. However, there is a catch: Fortune Dough obtained from Tower of Frozen Waves will expire after 90 days, but Fortune Dough obtained via other ways will expire after 15 days, so beware!
Types of Fortune Dough
There are four types of Fortune Dough, with four different tiers or rewards. Each player can only obtain one type of reward per dough. However, if you're lucky, you can obtain another Fortune Dough as the second additional reward.
Brown Fortune Dough
Silver Fortune Dough
Golden Fortune Dough
Rainbow Fortune Dough
Baking Time:
30 minutes
Baking Time:
6 hours
Baking Time:
24 hours
Baking Time:
72 hours
Available Rewards
1~5
3~15
5~30
10~100
1,000~10,000
3,000~20,000
5,000~30,000
10,000~50,000
1
1
1~3
1~7
1
1
1
1
3~5 slots
3~10 slots
3~10 slots
3~15 slots
N/A
1
1
1
1
1
 1
N/A
100~800
400~3,000
500~5,000
2,000~8,000
 3~5
 3~10
5~15
10~20
Elixir of Experience S~M
Elixir of Experience S~L
Elixir of Experience M~XL
Elixir of Experience L~XXL
1~3 sets
1~5 sets
3~7 sets
N/A
100~300
200~500
300~800
500~1,000
5~20
10~30
20~50
N/A
Selling Fortune Dough
Earned Fortune Dough can also be cashed out. This can be useful when you're out of Fortune Dough Space. However, you can notice it's always better baking each Fortune Dough, for a possibility of getting better rewards than just coins.
Below is the list of selling price:
Gallery