Guild Run is a game mode in Cookie Run: OvenBreak, added on May 30th, 2019. Guild Runs are competitions between four Guilds of similar Ranks, where members of a Guild all run in up to four randomly selected Arenas, and their combined high scores compared to the other Guilds determines the winner. Running in Guild Runs gives a player seasonal Reward of Guild Coins, Coins, and Crystals, and winning Guild Runs awards Guild Coins and causes the Guild to rank up to receive better rewards.
Rules
Guilds of at least level 4 can participate in Guild Runs. Guild Runs can only be initiated by the Leader or Officers. If a member tries to start a Guild Run, the Leader and Officers will be notified that a member wants to run. Guild Runs use multiple different Arenas, specific maps with special rules and a limited selection of Cookies, Pets and Treasures, similar to the Champions League. At the beginning of the Guild Run, the Leader or Officer of each guild spins a wheel which randomly selects one Arena. If the wheel isn't spun within 10 minutes, an Arena is chosen randomly without spinning it. After each Guild has selected an Arena, the Guild Run starts. Multiple Guilds may roll the same Arena, causing there to be less than four Arenas in the Run.
Each attempt at an Arena requires a Guild Ticket. Each player starts a Guild Run with 10 Guild Tickets, and can get more by purchase, by watching ads, or by being given a gift from a Guildmate. Five tickets cost

200, and can be bought for personal use or bought for another guildmate. Watching an advertisement gives one ticket, which can be done ten times per Guild Run. Each member of a Guild can send a free gift of one ticket to a maximum of 20 guildmates.
Guilds are given stars proportionally based on their scores in an Arena, and at the end of a Guild Run the number of stars collected determines the winner. After the Guild Run is over, each player gets a reward of Guild Coins based on their guild's Rank and placement in the Guild Run, as well as a Contribution Bonus awarded based on their score among their Guildmates.
Each Guild Run Season lasts for two months. The current season determines the Season Items in the Guild Shop and the available Arenas, as well as any additional Season Rules and Recipes.
Guild Kitchen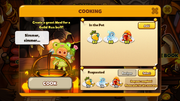 The Guild Kitchen can be used to cook a Guild Meal that provides a buff to all Guild members during a single Guild Run. Ingredients for the Meal can be collected in Exploration Quests, and added to the pot by all members. The Guild Leader and Officers can decide when to cook, and can request a specific Recipe. If a request is made, Guild members who contribute will receive a reward of Guild Coins or Coins. Once the Leader or Officer decides to cook, the ingredients currently in the pot will determine the result. If the ingredients in the pot don't correspond to any recipe, a Mistake will be cooked. Newly cooked meals are added to the Recipe Book, where players can see the effect and ingredients of every meal they've cooked. A meal cannot be replaced during a Guild Run but one can be cooked during the Run if it is started with no meal.
Starting with the Bamboo Forest Season, there are Seasonal Recipes, which are only possible to cook during their season. So far, they have always been strong choices with effects connected to the Season Rule.
Recipes
Guild Ranks
The Guild gains or loses Guild Trophies after a Guild Run based on the total stars collected, and these Trophies determine the Guild Rank. After the current Season is over, players who participated in at least three Guild Runs will receive a Season Reward based on their Guild's Rank.
When Guilds of Ruby rank or higher participate in Guild Runs, Arenas count the top scores of more players, so more guildmates must participate. The top twenty scoring Guilds are Rainbow rank, and receive a special cosmetic Guild Lobby design.
League
Trophies
Required
Season Reward
Rainbow
Top 20
5,500 3,500 3,500,000
Diamond I
3,900
5,000 3,000 3,000,000
Diamond II
3,800
4,700 2,800 2,800,000
Diamond III
3,700
4,400 2,700 2,600,000
Diamond IV
3,600
4,200 2,600 2,400,000
Diamond V
3,500
4,000 2,500 2,200,000
Ruby I
3,400
3,800 2,400 2,000,000
Ruby II
3,300
3,600 2,300 1,900,000
Ruby III
3,200
3,400 2,200 1,800,000
Ruby IV
3,100
3,200 2,100 1,700,000
Ruby V
3,000
3,000 2,000 1,600,000
Emerald I
2,900
2,850 1,900 1,500,000
Emerald II
2,800
2,700 1,800 1,400,000
Emerald III
2,700
2,550 1,700 1,300,000
Emerald IV
2,600
2,400 1,600 1,200,000
Emerald V
2,500
2,250 1,500 1,100,000
Gold I
2,400
2,100 1,400 1,000,000
Gold II
2,300
1,950 1,300 950,000
Gold III
2,200
1,800 1,200 900,000
Gold IV
2,100
1,650 1,100 850,000
Gold V
2,000
1,500 1,000 800,000
Silver I
1,900
1,400 950 750,000
Silver II
1,800
1,300 900 700,000
Silver III
1,700
1,200 850 650,000
Silver IV
1,600
1,100 800 600,000
Silver V
1,500
1,000 750 550,000
Bronze I
1,400
900 700 500,000
Bronze II
1,300
800 650 450,000
Bronze III
1,200
700 600 400,000
Bronze IV
1,100
600 550 350,000
Bronze V
0
500 500 300,000
Guild Seasons
Season Zero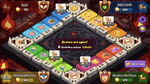 Before Guild Run seasons started, Guild Runs had 20 arenas, on a board themed after Dragon's Valley. The Guild Kitchen did not exist, and neither did seasonal Jelly Sets or Season Rules.
Dragon's Valley Season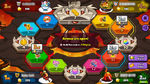 The Dragon Awakens update on September 25, 2019 brought the first season. This season was again themed after Dragon's Valley, but had a smaller board with 12 arenas. All seasons since have had 12 arenas, and this season also added Season Rules, Seasonal Jelly Sets, and the Guild Kitchen. The featured Jelly Set was the Adventure Feast Set.
Frozen Mountains Season
The Frozen Mountains season came with the Jolly Winterland update on November 25th, 2019. This Season was snow and winter themed, with the Winter's Chill Set featured. All recipes besides An Effort was Made and Deluxe Tail Steak were buffed, while those two were nerfed . The Season Rule was Snowflake Jellies fall from the sky! Snowflake Jellies were immune to magnetic effects.
Flower Garden Season
Season 3 began on January 29th, 2020, in the Valorous Champions League update. This update added two new meals, Strawberry Fudge Fern Shortcake and Strawberry Burger, and balanced older meals. The board for this season was a sunny floral garden, and the Spring Picnic Set was available. The Season Rule was Jellies sprout from the ground!
Pineapple Isle Season
The Pineapple Isle season was added on March 26, 2020 with the Legends of the Dragon Isles update. The board was themed after the islands that are home to Mango Cookie and Ananas Dragon Cookie. The Fruity Fruits Set was featured.
Bamboo Forest Season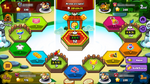 Season 5 started on May 27th, 2020, with a bamboo forest theme to match the Martial Arts Champion update. This Season was the first to have a seasonal recipe, the Extra Special Healthy Stew. The Peace and Prosperity Set was available.
Sunken City Season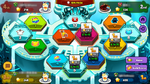 The Sunken City season began on July 27th, 2020 in the Secret of the Lost City update. The board is themed after Lost City of Sugarteara. The seasonal recipe was Bubbly Magical Rainbow Bubble Tea, the Season Rule was Magic Bubbles cover Jellies at certain intervals, which acted like the Bubble Wave Shell. The Adventure Feast Set from Season 1 returned, with newly added Frozen Bear Jelly and Rainbow Bear Jelly skins.
Cheddar Mine Season
The seventh season, Cheddar Mine, began on September 27th, 2020, named and themed for the Glittering Cheddar Mine update. The board is inside a mine, with a full minecart in the center. The season recipe is Fancy Emergency Rations, and the Season Rule is Cheese Pickaxes excavate Ore Jellies at certain intervals! The Fruity Fruits set from season 4 returned, with newly added skins.
Snow Party Season
Season 8 began on November 26, 2020, in the Dazzling Year's End Party. The board is snow themed. The season recipe is Cake of Bravery, and the Season Rule is Follow Music Notes for a flashy finale! The season Jelly set is the Happy Holidays 2020.
Updates
July 30, 2019

Guild Runs will now last for 72 hours.
Coinciding with this change, adjustments to Guild Run Tickets, Guild Coin rewards, and Guild Trophies have been made as well.

September 25, 2019

Seasons added, along with Seasonal Rewards.
Contribution Bonus added.
Guild Kitchen added.
Guild Runs last for 2 days, automatic leadership transfer if leader is inactive.

October 1, 2019

Guild Run Arenas that did not give extra points for Giant Star Jellies have been fixed to provide the correct amount of points, even after cooking up the Jam Chops Meal.

January 30, 2020

The number of Guild Trophies earned per Guild Run has been increased.
Two new Guild Meal Recipes have been added.

July 27, 2020

Guilds ranked Ruby or above will follow a separate set of rules. For these Guilds, the combined scores per Arena will be adjusted to require more Guildmates to participate in Guild Runs.
After sending all of the pre-provided Guild Run Tickets to your Guildmates, you can choose to send additional Guild Run Tickets by purchasing them with Crystals. These purchased Guild Run Tickets can only be sent during the Guild Run that is already in progress.
Fixed an issue in the Guild Kitchen: when a Guildmate chooses to add Ingredients to the Pot at the same time the Meal is being Cooked, the chosen Ingredients will no longer be added to the Pot.

September 27, 2020

Detailed results of a Guild Run can now be viewed at the end of each Guild Run.
Guild Run results are now organized according to rank.
Guild Run results will now also show a record of past Guild Runs. This new feature will show records with the start of the current Season and will save up to two Season's worth of records.
You can also check Season's best records for each Guild Member.
The number of Members' scores needed for each Guild Run tier has been adjusted.
Gallery
Game Modes

Trophy Race (Lands) • Breakout Mode (Shop) • Cookie Trials • Champions League (Medal Exchange) • Guild (Guild Run • Guild Shop) • Island of Memories

Collectibles

Cookies (List) • Pets (List) • Treasures (List)

| | |
| --- | --- |
| Cosmetics | Costumes (List) • Jelly Shapes • Lobbies • Titles • Music Box |

Currencies

Coin • Crystal • Magic Powder • Rainbow Cube • Spirit Potion • Winding Key

Mechanics

Affection • Bonus Jars • Bonus Time • Burning Days • Cookie Cheer Squad • Energy • Escape Level • Gacha • Lobby • Magic Candy • Magic Laboratory (Ingredients) • Quests • Trophies • Diary • Invocation Cards

Others

Tutorial • Jelly Points • Preferred Lobby Gifts • Prize Coupon • Story

Legacy

1vs1 Race • Cookie Quests • Mystery Boxes • Jelly Mission • Daily Quests