Do not cross the cookie border!

This article is archived. It is considered no longer relevant in-game, and the information inside this article is taken from a very outdated version of the game, or from LINE Cookie Run.
For the other Halloween Parties, see Halloween Party.
Halloween Party 2015 is an event specially made for celebrating the 2015 season of Halloween. All these changes are available from 23 October 2015 to 12 November 2015, midnight (GMT+9). It is noted that the changes are not as huge as it may seem compared with the previous year's event.
List of Changes in Halloween Party
Edit
Theme Song changed
Edit
Theme song in the lobby page in Escape from the Oven has been changed into spooky Halloween theme. The Rainbow Rush Bonus Time music has also been changed.
Luck-o'-Lantern available for purchase
Edit
Luck-o'-Lantern is back again and is available to be purchased in the Pet Shop for

31 for those who do not have it yet. It is available for purchase until the end of the Halloween Party.
Collect Halloween Photos Event
Edit
Main article: Collect Halloween Photo Event!
Players are requested to gather Cookie Photos for an exclusive treasure as well as other rewards.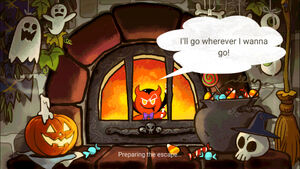 The loading screen has been changed, filled with various Halloween candies. However, loading screens in other episodes don't change.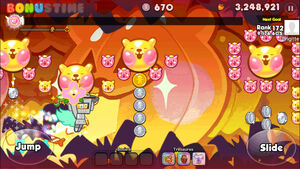 Rainbow Rush pumpkin background
Edit
Rainbow Rush Bonus Time background was changed into Jack-o'-Lantern filled with lots of Halloween candies. No changes in the layout of other Bonus Time.
Cookie Costumes
Edit
Every cookie available in the game except Ginger Claus and the L-grade Cookies is wearing Halloween costumes. Meanwhile, these costumes will not affect the cookie's abilities or any power. For the Cookies' costumes available from the previous Halloween Party, click here.
The following Cookies are for those released after the 2014 party or were already there but did not have a costume then. If you would like to learn more about the original character used for the Cookie's costume, click on some of the hyperlinks provided.
Some designs of the Cookies have changed since the New World update. Although their costumes still stay the same, the appearances have changed.
The loading screen featured during the Halloween event is a rehash of Cookie Run: New World's loading screen, which was once used in the Kakao version of Cookie Run.
The spooky Halloween lobby music in Escape from the Oven is a remix of the old lobby music from the first three seasons, which was used in 2014 as well.
Knowing that

all Cookies

have a costume, the Grade ones are excluded.