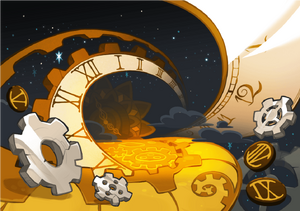 Welcome to the Island of Memories. Here, you can get a glimpse of Cookie's Memories. One cannot tell if these memories are real or from their deepest dreams...

The Island of Memories is a game mode in Cookie Run: OvenBreak, first introduced on March 21, 2017. This game mode contains a series of short stages themed around the pasts of four Cookies- Hero Cookie, Cheerleader Cookie, Dr. Wasabi Cookie and Mustard Cookie. These include Boss stages with different game styles. Similarly to Friendly Run, the special skills of Cookies, Pets and Treasures are unavailable in most stages, but not all. Succeeding at the Island of Memories gives three exclusive Costumes, among other rewards.
Mechanics
Each stage has an objective, usually collecting a particular type of Jelly. Performing this task well earns stars, up to three per stage. If no stars are earned, or the Cookie doesn't reach the end of the stage, the stage is not completed and you must try again. On most stages, the only gameplay difference between different Cookies, or differently leveled Cookies, is the amount of Energy they have. Every tenth stage allows Cookie skills, and sometimes Pets or Treasures as well, typically using a fixed combi.
The first stage of each Island is a Boss that has a unique gameplay style and story sequences. Additional harder Boss stages appear split off the main path later on the Island, but only the first has a cutscene. Stars in Boss stages are gained based on the amount of Energy the Cookie has left when the boss is defeated.
Hero Cookie's Island of Memories unlocks at Escape Level 16, and the next two Islands, Cheerleader Cookie's Island of Memories and Dr. Wasabi & Mustard Cookie's Island of Memories, are each unlocked when 30 stars are earned in the previous Island. Rewards are received for every 30 stars collected in an Island, up to 150, with 150 stars unlocking the special Costume reward. As each Island has 165 stars, this means 15 stars can be missed from an island while still earning all rewards.
A Winding Key is spent for each attempt at a stage. These refill after some time, up to a maximum of ten Winding Keys. For the impatient, they can also be purchased or crafted at the Magic Laboratory. A similar lives system is used in Cookie Run (LINE) and some Events.
Each Island of Memory has a small daily reward that requires playing three stages. Depending on progress on the Island, this could require completing unfinished stages, completing any stage, or completing a specific stage that has less than three stars. The daily reward will reset and can be received even when all Memories have been completed.
Boosters
Boosters are consumable power-ups similar to Boosts from LINE Cookie Run. Boosters can be selected to use before starting a stage, and function only for that stage.
Three of the seven Boosters are available to be selected per stage, and the Energy Note Booster is only available in Cheerleader Cookie's Boss stages. Boosters can be acquired as rewards in the Island of Memories or purchased using Crystals.
| Name | Effect | Cost |
| --- | --- | --- |
| Energy Boost | 40 Energy Bonus | 90 |
| Revive | Revives Cookie with 40 Energy | 90 |
| Ice Bridge | Create Ice Bridge to cover holes | 180 |
| Shield | Protects Cookie from 1 collision | 90 |
| Tiny Magnet | Attracts Jellies | 180 |
| | Creates additional Mission Jellies | Unknown |
| Energy Note | When Energy is low, 1 Energy Note will appear. | 180 for 3 |
List of Memories
Gallery
Trivia
Before being revamped, each Island of Memories was open for a limited time. Hero Cookie's First Suit: S1CV and Cheerleader Cookie's School Attire were originally the Costume rewards from their Islands.
At the 2019 Tokyo Fan Meetup, it was stated that there were plans to revamp the Island of Memories again.
Game Modes

Trophy Race (Lands) • Breakout Mode (Shop) • Cookie Trials • Champions League (Medal Exchange) • Guild (Guild Run • Guild Shop) • Island of Memories

Collectibles

Cookies (List) • Pets (List) • Treasures (List)

| | |
| --- | --- |
| Cosmetics | Costumes (List) • Jelly Shapes • Lobbies • Titles • Music Box |

Currencies

Coin • Crystal • Magic Powder • Rainbow Cube • Spirit Potion • Winding Key

Mechanics

Affection • Bonus Jars • Bonus Time • Burning Days • Cookie Cheer Squad • Energy • Escape Level • Gacha • Lobby • Magic Candy • Magic Laboratory (Ingredients) • Quests • Trophies • Diary • Invocation Cards

Others

Tutorial • Jelly Points • Preferred Lobby Gifts • Prize Coupon • Story

Legacy

1vs1 Race • Cookie Quests • Mystery Boxes • Jelly Mission • Daily Quests