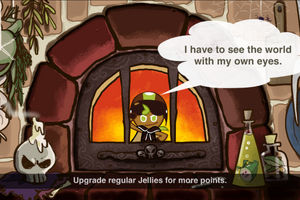 Here are a compilation of tips found during the loading screen before you play the game.
Cookies and Pets
Edit
Upgrade Cookies for a higher Energy level.
A special Cookie & Pet combination will trigger a special Combi Bonus.
Mint Choco Cookie and Rockstar Cookie

plays

their own tune while running.
Did you know that Prophet Cookie's prophets come from his beard? His crystal ball has nothing to do with it!
You can earn Cookies' Freedom Frame Treasure after collecting certain number of Cookies.
Collect special Cookie Treasure when you upgrade them to MAX Level (8).
Pets that have reached MAX level (8) will not be hatched.
Treasures, Evolve Treasures, and Ingredients
Edit
Evolve Treasures for a much stronger effect.
Use Mystic Gems to bless your evolved Treasures.
Treasures with reviving effect will help you revive when your Energy run out.
Treasures with Magnetics effect will attract Jellies for an easier gameplay.
Treasures with lifting effect will help you when you fall in holes.
You can upgrade Treasures using Coins and/or Crystals.
You can use Magic Powder to create Ingredients.
You can extract Magic Powder from Treasures and Ingredients.
You can extract Mystic Gems in

S Rank Treasures

.
Ingredients can be found in Mystery Boxes, Medal Exchange Center, Fortune Dough and Events.
Ingredients acquired through gameplay can be found in the My Ingredients.
Upgrade regular Jellies for more points.
Winged Jellies are not attracted by Magnetic effects.
Dark Moon Jelly will give you many points, but they cannot be attracted by Magnetic effect.
Achievements
Edit
Mystery Jewels
Edit
You can receive a special reward with the Mystery Jewels acquired from Mystery Boxes.
Drop of Choco Pet can be acquired by collecting Mystery Jewels in Escape from the Oven.
Tiger Lily Cookie can be acquired by collecting Mystery Jewels in Primeval Jungle.
Fire Spirit Cookie can be acquired by collecting Mystery Jewels in Dragon's Valley.
Moonlight Cookie can be acquired by collecting Mystery Jewels in City of Wizards.
Collect Mystery Jewels in Dessert Paradise and unlock Wind Archer Cookie.
Leaderboard
Edit
Weekly Friend Ranking ends every Sunday 9 p.m. (GMT+9)
Leagues start twice a week: Thursday and Sunday 9 p.m. (GMT+9)
In the Friends section, you can find out your friends' high score and best combi.
Your current League depends on your previous League results.
Your game score will be used to place you in both League and Friend Ranking.
You cannot receive rewards if you do not participate in a League.
Trade your Medals for cool items in the Medal Exchange Center.
If you advance rank for two consecutive Leagues, you will advance 2 ranks at once on the third advance. (excluding King, Legend and God)
Fortune Doughs
Edit
Bake Fortune Doughs for random rewards.
Fortune Doughs can be earned through Events and Tower of Frozen Waves Mission.
Once your Fortune Dough tray is full, the remaining will be kept in the Mail Box.
If you do not accept the rewards within time, it will disappear.
Daily Bonus is located in the upper side of the Mail Box.
Upgrade Energy to run longer.
Use Energy Boost to run longer.
Did you know that you can save your favorite Cookie+Pet+Treasure combinations?
For a

special map

, go to Bonus Time when you have very little Energy left.
You can get 50% discount on Random Boost after the first purchase.
Cookie's Warm Hearts can be acquired through Mystery Boxes.
Sea Fairy Cookie will be awoken once you have enough Cookie's Warm Hearts.
You can acquire Cookie, Pet, Coins and Boost Jellies by opening Gifts.
Check out the Low Spec Setting for a lighter game.
You can flip Jump/Slide Buttons on the Setting.
The more stars an Episode has, the more difficult it is.
You can switch Episodes through the Episode Map.
Special Episode Only
Edit
You can collect many, many Coins in Ghost Pirate's Island of Coins. But watch out, there are special rules.
Cookie Skills are blocked in Ghost Pirate's Island of Coins.
Collect 300 Frozen Stars to receive Frozen Wave Drop Pet.
You can see the distance between the Frozen Gate and yourself in the upper left bar.
For floors that you have already cleared, you can play again by touching the FL.
Jellyco Missiles freeze in floors 51-100. Too cold!