New Pokemon Games - The Loop
Play Sound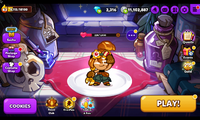 The Lobby or Main Lobby is the main menu of Cookie Run: OvenBreak. The two most important sub-menus, the Play menu and the Cookies menu, are accessed from the Lobby, as well as other important menus like the Gacha, Friends list, and Mailbox. The OvenPass, Royal Club, and new packages are advertised on the Lobby screen. In addition to being the main menu, the Lobby has a secondary purpose of displaying a chosen Cookie, who can give daily gifts to the player and receive daily gifts to raise their Affection. Alternate designs for the Lobby which change the visuals and music can be received from some Events.
Lobby Rewards
Main article: List of Preferred Lobby Gifts
A Cookie of the player's choosing is displayed in the center of the Lobby. Once per day, the Cookie will give a gift of some currency to the player, which varies by Cookie. Each Cookie gives Crystals, Rainbow Cubes, Magic Powder, or Coins. If the Cookie has over 600 Affection, they will give more of the currency. A low Affection Cookie will give 50

, 10

, 250
, or 50,000
, which can be increased to 60

, 12

, 300
, or 60,000
.
A Cookie in the Lobby can be tapped to talk to them, which displays special dialogue and raises their Affection by 2 for the first three taps of the day. The taps can be split among different Cookies. A Magic Ingredient gift can be given to the Cookie once per day, which also increases their Affection. Each Cookie has at least one liked item and one disliked item, which are hinted at with dialogue shown if they have over 400 Affection. A liked item will raise their Affection by 15, while a disliked item will not raise it at all. Items the Cookie is neutral towards will raise their Affection by 5. Some Costumes, primarily Epic and Super Epic ones, change the Cookie's likes and dislikes. Almost every Cookie with Magic Candy like their unique Ingredient as well, and the Royal Golden Dough received from the Royal Club and some E-rank items like the Anniversary Cake are liked by all Cookies. Royal Club members can give three gifts per day, and receive triple affection from talking.
Once a Cookie reaches maximum Affection, they will give the player their unique Basic Jelly skin from the Lobby.
Lobby Designs
By default, the Lobby background is The Witch's Kitchen. Other designs for the Lobby can be obtained from Events or other means, and once new designs are obtained, the design can be changed from the ... menu where the Lobby Cookie is changed. Lobby designs change the background graphics as well as music. Some Lobby designs have an element that can be tapped for a visual effect, such as lights that can be turned on and off. All differences between Lobby designs are cosmetic. The first new Lobby design, Walnut Cookie's Detective Office, and the ability to change between designs were introduced on September 4th, 2019.
Lobby Unlock Requirements
Lobby
Unlock Requirement
The Witch's Kitchen
Unlocked from start
Walnut Cookie's Detective Office
Obtain 70 testimonies in Chapter 1 or 30 testimonies in Chapter 2 in Cookie Detective: Solve the Mystery
Happy Cookie Party
Complete all event stages in 3rd Anniversary: Happy Cookie Festival!
Royal Relaxation
Have a Royal Club Membership subscription for at least 6 months
The Witch's Holiday Kitchen
Complete decorating the tree in

Decorate the Festive Tree!

Ornate Wizard's Table
Completer Conjurer's Cookbook Tome or buy with 3,000 (if picked the other tomb) in

The City of Wizards: The Wizard Archives

Mystical Wizard's Desk
Completer Historia Magika Tome or buy with 3,000 (if picked the other tomb) in

The City of Wizards: The Wizard Archives

Dreamy CookieLand
Reach 150 pts on the Memories Gauge in Chapter 2 of Dreamy CookieLand!
Martial Arts Tournament
Obtain 30 Emblems in Story Mode in Way of the Cookie
Moonlit Tower of Frozen Waves
Complete the 10th Floor in Tower of Frozen Waves (OvenBreak)
Beyond the Abyss
Obtain Sea Fairy Cookie's Dread Trident of the Abyss costume
Sunny Soda Beach
Buy with 1,000 Sugar Clams from Custom Runs special event shop
Cheddar Mine Appraisals Post
Buy with 3,000 Cheese Stones from Spelunking Expeditions event shop
Timeless Ballroom
Complete all chapters in 4th Anniversary Event: Operation Timeguard!
Popping Neon Year's End Concert
Buy with 3,000 Friendship Medals from Friendly Run in the Dazzling Year's End Party update
Grandmaster Hotel
Buy with 1000 Match Coins from the Survival Run Exchange in the Dangerous Exchange update
Hall of Ancient Heroes
Log into Cookie Run: OvenBreak and Cookie Run: Kingdom using the same DevPlay account (Must reach Kingdom Lv. 5 in the latter game)
Radiance of Galaxy Lake
Obtain Wind Archer Cookie's Zephyr of Life costume
Tickling Spring Breeze
Buy with 1,200 Sugar Blossoms from Custom Runs spring season event shop
Pudding Cup Big Top
Get 150 points in the

Pudding Cup Circus

event
Royal Treasure Trove
Have a Royal Club Membership subscription for at least 36 months
Throne of Perpetual Chaos and Darkness
Obtain Dark Enchantress Cookie's Chaos Incarnate costume
Serene Pantheon of Starlight
Obtain from

Battle Runs

event
Happy Rainbow Dreamland
Buy with 1,200 Sugar Cartridges from Custom Runs aspiring dreams season event shop
Hors d'Oeuvre Museum Gala
Obtain 35 testimonies in Chapter 2 in Cookie Detective: The Butter Painting Affair
Jelly Serpent Temple's Guards
Buy with 3,000 Diary Gems in Yogurt Dunes Escapade update diary shop
Midsummer Festival Dreams
Buy with 1,500 Sugar Clams from Custom Runs summer season event shop
Fragrant Lotus Paradise
Buy with 3,000 Diary Gems in Tales of the Wishing Lotus update diary shop
Before the Grand Cookie Party
The current Lobby system of talking to a single Cookie who gives and receives gifts was added in the 2nd Anniversary Grand Cookie Party update on October 24th, 2018. Before this, there were two earlier designs for the Lobby. The Lobby was first added on August 30th, 2017 during the Season 2 update, as this was the first time a game mode besides Trophy Race was playable. The original Lobby allowed displaying more than one Cookie, who used their loading screen graphics, similar to how the Guild Lobby looks. Cookies could be displayed in Costumes, and the same Cookie could be shown in multiple spots. In the Season 3 update, the Lobby was modified to have the Cookies use their running graphics on a new background. Previously, Free Chests could be opened on a four hour timer from the Lobby, which gave a small amount of Common and Rare Cookies or Pets, even less than a Cookie Chest, with a low chance of Epic units. Free Chests were replaced with the daily Currency reward, and chests using the same design are rewarded from GingerBrave's Trial and Hero Cookie's Trial as part of the Tutorial.
Updates
August 30, 2017
April 28, 2018
October 24, 2018

Lobby Renewed.
Only one Cookie can be placed in the Lobby.
Gifts and Daily rewards added.

February 26, 2019

Lobby Renewed.
Trophy Race, Champions League, Island of Memories, Cookie Trials, and Friendly Run are now accessible by tapping on the CHALLENGES button.
Mailbox, Friends, Gacha, Package Shop, Costume Shop, and Magic Laboratory were added to the side menu.
Some of the buttons were removed.

May 29, 2019

Changes to the Main Lobby UI.
Breakout and Challenges buttons combined into Play button.

August 27, 2019

Lobby Customization added.
The initial "Greet, Compliment, Chat" buttons used to increase Affection have been removed.
After providing the daily limit of gifts to your Cookies, the "Gift" button will be hidden from the Main Lobby.
The button to view Cookie Relationship Charts has been removed from the Main Lobby.

May 27, 2020

Lobbies that can change will stay the way you selected instead of resetting each time you quit the Lobby.

September 27, 2020

You can now change the pose of Cookies placed in the Main Lobby with the "Change Pose" from the Change/Details menu.

November 26, 2020

You can now change the music of the lobby from the Change menu.
Added a new "Photo Mode" where you can see the menu without the UI.
Gallery
Trivia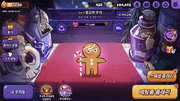 The plate in the default Lobby was planned to be removed in the February 26th, 2019 Lobby redraw, but was left in after complaints that the new design felt empty.
Wind Archer Cookie is the only Cookie with a Magic Candy who does not like his special Magic Candy Ingredient.
Dark Choco Cookie and Wind Archer Cookie as the

Night Raven

are also the only Cookies who dislike multiple Magic Ingredients.
Millennial Tree Cookie is the only Cookie without a Magic Candy who likes more than one Magic Ingredient.
No Cookie released after Hello Kitty and Mimmy on November 28th, 2018 gives out Coins, and no Cookie released after Marshmallow Cookie on December 19th, 2018 gives out Magic Powder. This is likely because Coins and Magic Powder are much easier to get than Crystals and Rainbow Cubes.
Game Modes

Trophy Race (Lands) • Breakout Mode (Shop) • Cookie Trials • Champions League (Medal Exchange) • Guild (Guild Run • Guild Shop) • Island of Memories • Treasure Trials

Collectibles

Cookies (List) • Pets (List) • Treasures (List)

| | |
| --- | --- |
| Cosmetics | Costumes (List) • Jelly Shapes • Lobbies • Titles • Music Box |

Currencies

Coin • Crystal • Magic Powder • Rainbow Cube • Spirit Potion • Winding Key

Mechanics

Affection • Bonus Jars • Bonus Time • Burning Days • Cookie Cheer Squad • Energy • Escape Level • Gacha • Lobby • Magic Candy • Magic Laboratory (Ingredients) • Quests • Trophies • Diary • Invocation Cards

Others

Tutorial • Jelly Points • Preferred Lobby Gifts • Prize Coupon • Story

Legacy

1vs1 Race • Cookie Quests • Mystery Boxes • Jelly Mission • Daily Quests