New Pokemon Games - The Loop
Play Sound
Photo Challenge!

It is requested that additional images be added to this article.
Images requested: Missing Magic Ingredient Images
Please help Cookie Run Wiki by uploading high quality images and adding them to articles.
For Ingredients in Cookie Run (LINE), see Ingredients.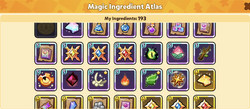 Magic Ingredients are supplies used in the Magic Laboratory in Cookie Run: OvenBreak. Magic Ingredients are used in crafting consumable items, currencies, and Magic Candy. Each Ingredient is ranked from C to S based on rarity, with Event-exclusive items using a special E-rank. Most Magic Ingredients can be bought with Crystals or Magic Powder.
Obtaining Magic Ingredients
The primary means of obtaining Magic Ingredients is Magic Ingredient Pouches, which spawn during runs and give random rewards. If specific Ingredients are wanted, they can be bought at the Magic Laboratory. Ingredients for Magic Candies, including Sugar Crystals and the unique special ingredients of Cookies, can be bought with either Crystals or Magic Powder. S-Rank or E-Rank Ingredients, or certain A-Rank Ingredients used in Legendary Cookies' Magic Candies, can not be bought. All other Ingredients can only be bought with Magic Powder.
The Guild Shop also sells Magic Ingredients, including S-Rank ones. Fading Embers and Crystalized Essences of Night are always available, and other Ingredients appear randomly. Cookie Trials give Magic Ingredients for the featured Cookie's Magic Candy in both Rank Rewards and Bonus Missions, and the same Ingredients are also given in Events around the time of a Cookie's release.
Magic Ingredient Pouches
Magic Ingredient Pouches slowly fly on screen during runs. Magic Ingredient Pouches appear based on run length, and with a long enough run, three pouches are guaranteed to appear. As they are winged, many magnetic abilities will not collect them, so the Cookie has to make sure to touch the pouch. Magic Ingredient Pouches move rightwards, but move slower than Cookies, so if one is missed, falling in a hole, calling a relay, or other means of temporarily stopping the Cookie will allow for a second chance at grabbing it.
The contents of a pouch depend on what game mode it was found in and its rarity, and are unknown until after the run. There are four rarities of Magic Ingredient Pouches, excluding Event pouches: Bronze, Silver, Gold, and Rainbow. Bronze pouches will contain one B-Rank Ingredient or one C-Rank Ingredient. Silver pouches will contain one to two B-Rank Ingredients or three C-Rank Ingredients. Gold pouches will contain one A-Rank Ingredient or one to two B-Rank Ingredients. Finally, Rainbow pouches will contain one S-Rank Ingredient or one to three A-Rank Ingredients. Each Magic Ingredient has specific game modes where it can appear, which can be seen in the Magic Laboratory. For example, Blessing Powder only appears in Magic Ingredient Pouches in Trophy Race, and because it is a B-Rank Ingredient, it can appear in Bronze, Silver, or Gold Pouches in that mode.
Using Magic Ingredients
All Magic Ingredients are used at the Magic Laboratory. In conjunction with one or two other Ingredients and a Coin payment, a variety of items can be crafted. Magic Candies can also be crafted directly from a Cookie's menu page. If unwanted Ingredients are owned, Magic Powder can be extracted from them, but for much less Powder than the cost to buy them.
Magic Ingredients can be given to Cookies in the Lobby to raise their Affection. Each Cookie has at least one liked item and one disliked item. A liked item will raise their Affection by 15, while a disliked item will not raise it at all. Items the Cookie is neutral towards will raise their Affection by 5. Some Costumes change the Cookie's likes and dislikes.
List of Magic Ingredients
S-Rank
A-Rank
B-Rank
C-Rank
E-Rank
Magic Ingredients in Cookie Run: OvenBreak

C-Rank

Bent Bronze Key • Broken Key Fragment • Bronze Hammer • Bronze Ink • Bronze Piece of Paper • Mysterious Bronze Pouch • Strawberry Syrup Droplet

| | |
| --- | --- |
| Sugar Crystals |  Black •  Blue •  Brown •  Crimson •  Gray •  Green •  Orange •  Pink •  Violet •  Yellow |

B-Rank

Ancient Cookie Chest • Ancient Pet Egg • Treasure Stamp • Rescue Certificate • Breakout Certificate • Blessing Powder • Bent Silver Key • Silver Hammer • Silver Piece of Paper •  Silver Ink •  Mysterious Silver Pouch •  Cracked Treasure Stone

A-Rank

 Bent Golden Key •  Blue Bottle •  Crystalized Essence of Night •  Dark Crimson Sugar Crystal •  Fading Ember •  Full Moon Pearl •  Blue Bottle •  Golden Hammer •  Golden Ink •  Golden Piece of Paper •  Millennial Tree Fruit •  Millennial Tree Tears •  Mysterious Golden Pouch •  Pale Cube •  Pale Leaf •  Shiny Sugar Crystal

| | |
| --- | --- |
| Solid Sugar Crystals |  Black •  Blue •  Brown •  Crimson •  Gray •  Green •  Orange •  Pink •  Violet •  Yellow |

S-Rank

 Diamond Hammer •  Diamond Ink •  Light of Life •  Mysterious Diamond Pouch •  Royal Golden Dough

E-Rank

| | |
| --- | --- |
| 2018 Event | Hook Fragment • Mysterious Glass Sand • Treasure Case • Spooky Pumpkin Caramel • Spooky Pumpkin Candy • Spooky Pumpkin Lollipop • Anniversary Cake • Fairy Cookie's Ribbon • Roll Cake Cookie's Ribbon • Strawberry Cookie's Ribbon • Marshmallow Bead |
| 2019 Event | Lucky Silver Fragment • Lucky Gold Fragment • 3rd Anniversary Cupcake • Newspaper Fragment • Restoring Ink |
| 2020 Event | Bread • Patties • Cheese (The Ultimate Sandwich Recipe!) • Eggs (The Ultimate Sandwich Recipe!) • Lettuce • Onions (The Ultimate Sandwich Recipe!) • Tomatoes • Ketchup • Top Secret • Pickles • Soft Brush 0 • Rice • Flour • Meat • Eggs (Panda Dumpling Deli) • Potatoes • Cheese (Panda Dumpling Deli) • Onions (Panda Dumpling Deli) • Vegetables • Bamboo Leaves • Rainbow Caramel • Rainbow Candy • Rainbow Swirlypop |
| 2021 Event | Almonds • Sugar Cubes • Butter • Carrots • Beets • Veggies • Fashion Reporter's Pen Jelly • Fashion Reporter's Ink Jelly • Sugar Jelly • Dye Jelly • Yarn Jelly • Ribbon Jelly • Cotton Jelly • Wind-up Key Jelly • Light Bulb Jelly |
S-Rank

Windgrass • Little Star • Dragon's Breath • Shimmering Moonlit Coral • Everburning Dark Crystal

B-Rank

| | |
| --- | --- |
| For Common Cookies | Small but Brave Button |
| For Rare Cookies | Iron Chocolate • Explosive Cherry Powder • Mint & Lemon Ribbon • Small Soda Wave • Rock Spirit Guitar String • Polished Shuriken • Blessed Feather • Grape Flask • Keepsake Horseshoe • Twice-Baked Spectral Jelly • Aromatic Grape Juice |
| For Epic Cookies | Ash Moonstone • Fairy Flower Seed • Energy Mineral Mint • Handful of Enlightenment • Fresh Wasabi Mandrake • Spiky Mutant Mustard Seeds • Sun-kissed Herb Seedling • Sharp Tiger Orange Stone • Fresh Orange Slice • Puffy Little Cream Puffs • Splendid Moon Rice Cake • Mysterious Meteorite Shard • Enchanted Tea Leaf • Rainbow Dough • Wonderful Melody • Fizzy Ice Ball • Golden Beans • Snowflake-shaped Gem • Cracked Candy Puck • Melted Chocolate • Fresh Avocado Oil • Pink Cherry Sprout • Lovely Toeshoe • Handkerchief à la Rose • Baumkuchen Rope • Gloomy Blackberry • Crimson Bandana • Dark Cocoa Bean • Hand Wraps of Dedication • Juicy Grapefruit Slice • Charged Lemon Slice • Salt Ore • Old Treasure Map • Bitter Lime Piece • Ink-stained Coin • Fluffy Foxtail • Mystic Bell • Sprouted Jelly Bean • Caramel Wrench • Freshly Roasted Popcorn • Snow Meringue • Sugar Shako • Magic Card • Popping Ice Cream • Green Fig • Fluff of Love • Mini Carrot Trowel • Vitamin Leaf • Spiked Sweet Potato • Calcium Rich Milk • Powered Ion Drink • Chewy Jelly Cable • Sour Dinosaur Egg • Vitality Pastille • Tome of Mastery • Organic Yogurt • Classic Detective Novel • Phantom Bleu's Wax Seal • Mug of Mala Sauce • Warm Syrup Wax • Shiny Confetti Ribbons • Worn Tire • Jingle Jingle Pudding • Sweet Cocoa Powder • Fortune Cookie Leftover • Summoning Fragment • Valorous House Crest • Morning Dew Rosebud • Fresh Spring Leaf • Authentic Packaging • Mango Peel Necklace • Crispy Crunchy Apple Slice • Full Stack of Pancakes • So Fluffy Meringue • Shining Glaive Blade • Crisp Leek Scabbard • Commendation Medal • Whispering Conch • Sorbet Icing Fish • Guardian's Claw • Cracked Sugar Crystal • Black Veil • Tattered Worn Fabric • Melon Stone Fragment • Kiwi Bike Tires • Cheese Coin Stash • Timecraft Cogwheel • Dreamlit Sprinkles • Limited Edition Record • Twin Chess Knights • Premium Tea • Cream Prints • Sacred Bark Gauntlet • Slightly Melted Ice Cream • Chocolate Dipped Banana • Starlight Starfruit Pin • Licorice Skull Candy • Bell Pepper Bolt • Gelatinous Dewy Aloe • Savory Goat Milk • 30px Worn Notepad • 30px Fluttering Lilac Petals • 30px Scorpion Tail Pendant • 30px Healing Seeds • 30px Jar of Ginseng Honey • Blooming Hydrangeas |
Game Modes

Trophy Race (Lands) • Breakout Mode (Shop) • Cookie Trials • Champions League (Medal Exchange) • Guild (Guild Run • Guild Shop) • Island of Memories • Treasure Trials

Collectibles

Cookies (List) • Pets (List) • Treasures (List)

| | |
| --- | --- |
| Cosmetics | Costumes (List) • Jelly Shapes • Lobbies • Titles • Music Box |

Currencies

Coin • Crystal • Magic Powder • Rainbow Cube • Spirit Potion • Winding Key

Mechanics

Affection • Bonus Jars • Bonus Time • Burning Days • Cookie Cheer Squad • Energy • Escape Level • Gacha • Lobby • Magic Candy • Magic Laboratory (Ingredients) • Quests • Trophies • Diary • Invocation Cards

Others

Tutorial • Jelly Points • Preferred Lobby Gifts • Prize Coupon • Story

Legacy

1vs1 Race • Cookie Quests • Mystery Boxes • Jelly Mission • Daily Quests