Do not cross the cookie border!

This article is archived. It is considered no longer relevant in-game, and the information inside this article is taken from a very outdated version of a currently active game, or is about a terminated game.
Of all the Cookie Run users worldwide, how good are you?
―Cookie Run Newsletter Announcement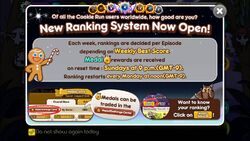 The Medal System is a new ranking system implemented on October 23, 2015. It is used to measure how good a player is, depending on the weekly ranking of all players that plays the game, not only on the player's leaderboard. It is most commonly compared with the league (or ladder) system, where one can dethrone the other. As score resets every Sunday, medals were also reset.
This systems ended in June 2016, with the last medals rewarded on the 26th. Players who played the game during June 26, 9pm GMT+9 to 2pm the next day would be rewarded 10

as compensation for no medals. It was soon replaced with the League System.
Every beginning of the week (Sunday 9pm, GMT+9), players around the world will compete to gain the top spot in the game. Players around the world then have to wait until Monday at noon (GMT+9) to receive their position medal, which will then be contended until the end of the weekly leaderboard.
The ranking are divided into two evaluation. They are:
Absolute Evaluation (Medals can be achieved by beating a fixed score)
Relative Evaluation (Medals can be achieved by being being on the top percentile of all players)
Each of these medals are exclusive to each episode, which means each episode will have a different medal rank if players achieved a different score.
While the global weekly leaderboard is not shown to the public, this system is able to estimate in what category the players' score lies on compared to the world. Players can also see how close they are to the next rank. Target score to achieve the next rank is usually shown, but it will not be shown from Legend III onwards.
At the end of the week, players will be rewarded with Medal, a new currency which can be used to redeem lots of rewards such as Magic Powder, Ingredients, or even Expand Treasure Cabinet in the Medal Exchange Center.
The list of medals are as follows:
| Icon | Rank Name | Rank Method | Requirement | Medals Given |
| --- | --- | --- | --- | --- |
| | God | Relative Evaluation | Reach Top 12 | 150 |
| | Legend V | Relative Evaluation | Reach Top 50 | 146 |
| | Legend IV | Relative Evaluation | Reach Top 100 | 142 |
| | Legend III | Relative Evaluation | Reach Top 200 |  138 |
| | Legend II | Relative Evaluation | Reach Top 0.05% | 134 |
| | Legend I | Relative Evaluation | Reach Top 0.1% | 130 |
| | King V | Relative Evaluation | Reach Top 0.2% | 126 |
| | King IV | Relative Evaluation | Reach Top 0.4% | 122 |
| | King III | Relative Evaluation | Reach Top 0.6% | 118 |
| | King II | Relative Evaluation | Reach Top 0.8% | 114 |
| | King I | Relative Evaluation | Reach Top 1% | 110 |
| | Lord V | Relative Evaluation | Reach Top 1.5% | 107 |
| | Lord IV | Relative Evaluation | Reach Top 2% | 104 |
| | Lord III | Relative Evaluation | Reach Top 3% | 101 |
| | Lord II | Relative Evaluation | Reach Top 4% | 98 |
| | Lord I | Relative Evaluation | Reach Top 5% | 95 |
| | Hero V | Relative Evaluation | Reach Top 6% | 92 |
| | Hero IV | Relative Evaluation | Reach Top 7% | 89 |
| | Hero III | Relative Evaluation | Reach Top 8% | 86 |
| | Hero II | Relative Evaluation | Reach Top 9% | 83 |
| | Hero I | Relative Evaluation | Reach Top 10% | 80 |
| | Master V | Absolute Evaluation | | 77 |
| | Master IV | Absolute Evaluation | | 76 |
| | Master III | Absolute Evaluation | | 74 |
| | Master II | Absolute Evaluation | | 72 |
| | Master I | Absolute Evaluation | | 70 |
| | Rookie V | Absolute Evaluation | | 67 |
| | Rookie IV | Absolute Evaluation | | 64 |
| | Rookie III | Absolute Evaluation | | 61 |
| | Rookie II | Absolute Evaluation | | 58 |
| | Rookie I | Absolute Evaluation | | 55 |
| | Newbie V | Absolute Evaluation | | 51 |
| | Newbie IV | Absolute Evaluation | | 47 |
| | Newbie III | Absolute Evaluation | | 43 |
| | Newbie II | Absolute Evaluation | | 39 |
| | Newbie I | Absolute Evaluation | Reach 1 Score | 35 |
| | No Medal | Absolute Evaluation | No score | 0 |
Gallery
Sprites