This is a sweet news for everyone, that Cookie Run is finally coming with the "Episode 5" - that we've always seen previously in KCR. It is officially named Dessert Paradise as we've already predicted. To celebrate the coming of this new episode, we're having another giveaway!
In short, all you really have to do is to add LINE Cookie Run's LINE Official Account, and answer two simple questions for

100 (50 for each correct answer). The answer for both questions are D and E, so once you added the account, just open the chat and type D and E respectively. No extra letters needed, it's very easy!
Here's the detail from LINE Cookie Run's official LINE OA: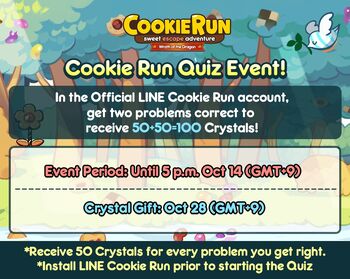 Fresh-baked news! Episode 5 is finally here!
Runners! The long-awaited Episode 5,
Dessert Paradise, is about to open its doors in Cookie Run!
And to celebrate such a special occasion,
we're bringing you a very special Quiz Event!
Learn about Episode 5 while doing this quiz!
Then, just answer the questions correctly before the update
get yourself some special rewards once Episode 5 opens!
Get yourself a perfect score,
and prove your Cookie Run mastery!
-----------------------------------
Question 1
Which of the following Cookies will appear for the first time in the game in Episode 5?
Choose one of the options from A to D and post your answer in the chat.
You will receive a 50 Crystal gift once Episode 5 opens if you answer correctly!
A. Buttercream Choco Cookie
B. Cheesecake Cookie
C. Roll Cake Cookie
D. Pancake Cookie
Question 2
Which of the following lands will be discovered by our favorite Cookies in the upcoming episode?
Choose one of the options from E to H and post your answer in the chat.
You will receive a 50 Crystal gift once Episode 5 opens if you answer correctly!
E. Dessert Paradise
F. Tower of Frozen Waves
G. Dragon's Valley
H. City of Wizards
-----------------------------------
Points to note:
- The Quiz Event will take place from 12pm, Sep. 30 to 5pm, Oct. 14 (GMT+9).
Make sure to post your answers in the chat while the event is still underway.
- Complete the quiz by posting your answers in the chat.
The chat screen will automatically show you if your answer is correct or not right after you type and send the letter of your choice.
It doesn't matter if your first answer is not the correct one. The rewards will be distributed as long as the correct answer is in the chat, so don't stop trying until you get it right!
- Please note that you won't receive the quiz rewards if you delete or block the Cookie Run official account at any point during the event,
even if you have already answered the quiz correctly.
-----------------------------------
All our Cookie friends are working hard to have the best update ever ready for you very soon!
In the meantime, enjoy the quiz and keep on running!
Om nom nom nom nom

If you don't have the account, you can add the account using three ways: opening LINE Cookie Run and tapping the announcement link at the loading page, clicking this link through mobile browsers, or scan for this QR code.
This event expires in October 14, 2016 - until then, enjoy the last two weeks of "Wrath of The Dragon" with lots of annoyingly shiny red layouts of LINE Cookie Run!