---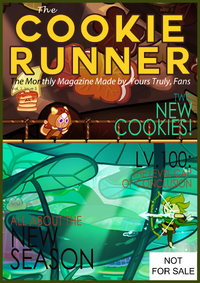 Published 18 September 2016
Welcome to Cookie Run Wiki's monthly newsletter, The CookieRunner! The CookieRunner is dedicated to giving out important updates on the game, as well as tips for the game, both in LINE and in Kakao. Yes, this newsletter will talk about Kakao stuff as well. But Kakao stuff will be limited to this newsletter, and nothing will be spread to the articles unless it's very important.
This newsletter will also be selecting fan art that we think is amazing and worthy enough to be featured here. Do you have any amazing fan art that we would like to see? Please comment down below! We would love to hear your suggestions.
EDITOR'S NOTE

By T And J Kids
Poem of the Month
Welcome to Paradise!
Where
Purple planets fly around
And giraffes jump over Cookies' heads.
Raging bees wil try to
Attack Cookies if they could (oh dear!).
Dinosaurs frolic around freely
(I hope Dino-Sour Cookie would enjoy that!).
Squirrels hurry to send some gifts, but we
Exasperate them (2 much magic powder!).
Welcome to Paradise!
Before I start off, let me say that this issue was originally meant to be the Internet special, which you should have known through the cover page I sent you through the social media. However, it was cut off by the new season that was released a few days ago (this was written on 8/20/16). In that new season, there is so much to write about! Therefore, this issue will be all about the new season, and the Internet special will be moved to October. Got that? Good. =)
Also please note that this is first time I have not wrote a blog post regarding the new season. Instead, our lovely contributor Kevinpeng wrote that blog post instead. You can check it out in the article that I wrote below.
Now on to what my note will be about: new features and changes added to The CookieRunner cover page. Although this is the first time we have done this, you may have noticed some changes made. One of this includes a new font face for the headings: the Century Gothic font, which is the same font that is used for the title and headings for the articles. I also happen to like this font

Another change is the border of the cover page. Previously, the border would always be a yellowish color no matter what the image of the cover was. Now, the border color would be chosen to fit the color scheme of the image, making the border look more appealing to the senses.

The color used for the headings is also different. It is now chosen to match the color scheme of the image, like the border. (However, if you can't read the headings or the color looks unappealing to you, please do tell me! I will try my best to make the cover page look appealing.)

If you have any questions or feedback about the cover page and/or The CookieRunner itself, feel free to do so in the comments. It is highly appreciated, and would help us even more with your feedback.
Also, I would like to apologize for the delay of the release of this issue. I got caught up with school, and therefore couldn't have time to release it in the first weeks of September.
In the meantime, happy running! And hope Paradise will help you make this game more fun!

•

•

Season Nueve Awaits!
By T And J Kids. Written on 21 August.
Don't mind my Spanish though. I wanted to take Spanish this school year but I could not. :')
Do you know what happened on the night of last Wednesday, when most of us were getting ready for bed (or just getting up)? If you don't know, you should, because it was a very big update that brought a brand new episode. Please welcome...
Cookie Run: Discovery of a New World!
Although the time took to release the it was really fast (4 months!), the new season could not get any better. It was released on 17 August 2016, on the same day as the anniversary of the bomb attack in Bangkok, Thailand (shoot...) and Independence Day in Indonesia for all the Indonesian players out there.
One thing to note here: you could say that this season came faster than the previous seasons, with only four Cookies in the previous season. This is true if you are talking about it in recent terms. However, for unknown reasons, it is still in the 8th Cookie Army, not the 9th Cookie Army. Also, the time took is roughly the same as the second season of Kakao Cookie Run, and had decreased until the Edge of the World season. It had increased very much, but now, it has dramatically decreased since with this new season.
Before I would like to get into the core of this article, how many of you have seen this newsletter prior to the new season?
If you didn't have, you should have. This was a hint that the new season will be arriving soon, although it arrived a few days after the last clue was released. And if you play the Kakao version, please remember to write this code down for 200 free Crystals!
This was also a vague clue to a new season. Although it received controversy on whether it was a clue to it or not (the season was too short to end anyway), the hint gave way. The event consisted of gathering a bunch of flying letters that closely resembles Runic letters, three sets each. Each of the sets, when put together, say (without the spaces), "TWINKLE TWINKLE LITTLE STAR HOW I WONDER WHAT YOU ARE". Also this is the first time an event got its own newsletter

Soo... What's In It?
There are many features released with the new season! Obviously, there is a new episode, but there are many more that have been released. Here are some of them.

A Brand-New Episode!
I said this before a lot of times, but don't mind about it. That's because it's the highlight of the new season! Who would want to not put emphasis on the new episode?
The name of the new episode is "Dessert Paradise". (Please note the name of the new season is not Cookie Run: Dessert Paradise, it's Cookie Run: Discovery of a New World.) It features not just brand-new backgrounds, but brand-new obstacles and challenging stages. What's unique about this episode is that it features a stage within a stage: look into the sixth stage to find out.
What is interesting in this new episode is that there are Winged Bear Jellies in every corner of each stage. Be sure to keep that mind when doing any Extreme Challenge!
Below are the screenshots for each stage according to Twitter account CR Updates.
The new episode also brought a very unique-looking Bonus Time, complete with new patterns. Here are the screenshots, again from the same Twitter account.
Of course, every new episode comes with a new set of background music! All the BGM you need from the new episode are found in the Dessert Paradise page. However, if you're too lazy, here they are! Click each one and guess what they are!

Two New Cookies!
The new Cookies are

Pancake Cookie and
Wind Archer Cookie. For more info, see the article below about it.

New Evolve Treasures!
For the first time since the Tower of Frozen Waves season, there are new evolve Treasures for the Cookies' and Pets' Treasures. However, unlike that past season, there are only four evolve Treasures for now: two from the Onion Cookie + Onion Fish combi, and the Macaron Cookie + Castanets combi.
Please note that I have no clue on the blessed effect information.
The list of new evolve Treasures include:
Onion Cookie's Lace Pillow
Original Treasure
Onion Cookie's Tear-full Pillow
Effect

Energy drain 7% slower
With upgrades, 1700~2300 extra points for going through obstacles
Macaron Cookie's Blusher Brush
Original Treasure
Macaron Cookie's Puff Blusher
Effect

With upgrades, 500~1000 extra points for Macaron Parade Jelly
With upgrades, revive once with 50~68 Energy
Onion Fish's Sliced Onion Scale
Original Treasure
Onion Fish's Onion Scale
Effect

With upgrades, 2800~3800 extra points for Tear Jelly
With upgrades, revive once with 50~70 Energy
Castanets' Electronic Metronome
Original Treasure
Castanets' Metronome
Effect

With upgrades, 10-13% more Energy recovery
With upgrades, lifts from hole 1-3 times

Level Cap Has Increased to 100!
The new update also raised the level cap from 80 to 100. For more info, see the article below about it.

A Photo Event Regarding the New Episode
To commemorate the release of the new episode, an event is held for taking photos of a dessert related to Cookie Run. For more info, see the article below about it.

Changes to Banana Cookie, Onion Cookie, Macaron Cookie, and More
Like every new update, there is one patch to go with it. This time, it's about Banana Cookie, Onion Cookie, Macaron Cookie, and the Pets and the combi bonus for the latter two.
The detailed patch note is as follows:
[Cookie Skill Modification]

Banana Cookie

Coins no longer fall into holes
Less coins earned per hoop pass

Macaron Cookie

More points for destroying obstacles during Parade
Extra points for all Jellies during Parade
More points for Macaron Jelly

Onion Cookie

More points for going through obstacles

[Pet Skill Modification]

Castanets

More Energy from Potions created by Pet
More points for Christmas Macaron Jelly

Onion Fish

More points for Tear Jelly
More points for Tear Jelly of Life

[Combi Bonus Modification]

Macaron Cookie & Castanets

More points for Macaron Jelly

Onion Cookie & Onion Fish

Changed to "Extra points for going through obstacles"

[Error Correction]

Corrected amount of Energy drained per second in Episode 5

Conclusion: And the Dragon is Finally Asleep!
This is not entirely true, however. Some sources have claimed that the dragon still appears, raging with all its might, in the final stage of Episode 3. The atmosphere of the episode even looks the same from the previous season. We are not sure how this happened, but either the dragon sleeping was all a joke, or there was an error made on the Devsisters side. Of course, the dragon was put to sleep in an event back in August, so it should have slept by now, right?
This means Soda Cookie is back to his common sense again, now that there is no sea of lava anymore.

Two New Cookies!
By T And J Kids.
Yes, not just one, but two! Like in the Wrath of the Dragon season.
The first one is the highlight S-grade Cookie, Pancake Cookie. Although it may look chubby at first, it is actually a really cute Cookie up close. And not just through the appearance, but through their sound files as well. Take these two as an example:
They sound similar, but they both feature such a cute-sounding Pancake Cookie.
What does it do, anyway? Well, it mainly flies for a set period of time while collecting Acorn Jellies and Sunflower Jellies. To glide up and down, use the Jump button. The Acorn Jellies form in a single line in par with the direction of Pancake Cookie. The Sunflower Jellies are formed at every minimum interval of the Acorn Jelly "graph" (think math here; if you don't like math, too bad). Collect those Sunflower Jellies to open up Sunflower Seed Jellies for additional points.
The Pet, Pancake Discus, flies for a set interval after a set interval. While it does so, it destroys obstacles and creates Maple Syrup Jelly, which can be collected with Magnetic Aura. Maple Syrup Cookie debunked!


And finally we depart from the unlock requirement of unlocking a certain Pet to unlock a Cookie. This time, you have to unlock a Cookie first before unlocking a Cookie, which is pretty ironic to me, because why unlock a Cookie to get a Cookie? Anyway, to unlock Pancake Cookie, you have to unlock Roll Cake Cookie, which means you have to have Light Bros before your have Pancake Cookie. And that includes deducting
108,000 and

20 (or 99) from your currency count.
Having this unlock requirement brings some speculation though. Is Roll Cake Cookie related to Pancake Cookie in some way? There is evidence that may say yes to that question. Notice Pancake Cookie's description, which says "Unlike their big brother, they're naturally cute..." It may be speculated that Roll Cake Cookie is Pancake Cookie's older brother from this evidence. However, it is not confirmed to be true by Devsisters, unlike the sibling relationship between Alchemist Cookie and Vampire Cookie.
Before I conclude this Cookie, does anyone notice special about the day the Package Deal for it will expire?
---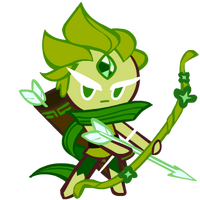 The other Cookie is the L-grade Cookie, Wind Archer Cookie. Every episode needs to have an L-grade Cookie accompany it, don't they? Without an L-grade Cookie, what's the purpose of the Mystery Jewels then?

This Cookie has a similar ability to Rockstar Cookie and White Choco Cookie, although it is more complicated than these two. What it does is that it prepares to shoot arrows at some a corrupted spirit using the Slide button. When the Slide button is released, the Cookie will shoot at the spirit and create Feather Jellies, which can be collected with Magnetic Aura. The target will automatically be set and all you need to do is shoot at the spirits. After 10 arrows have been shot, it will fly around and shoot at corrupted spirits for a set interval. More Feather Jellies are created during that interval than hitting a corrupted spirit during "charging mode."

Its Power+ is the usual Mystery Box in a specific episode. No point of going into detail there.

The description mentions that Wind Archer Cookie was created by the Sugar Swan, which can be seen here. The Sugar Swan made this Cookie to fight the corrupted spirits that spread across the Dessert Paradise.

It ability is good, if not comparable to Sea Fairy Cookie or Moonlight Cookie or even Fire Spirit Cookie. It was once mentioned that Wind Archer Cookie was weaker than the other L-grade Cookies, which tells us why it was buffed on August 31. However, there is no sign of a high-scoring combi with this Cookie.

In conclusion to this article, who is your favorite Cookie?

Raising the Level Cap All the Way to 100?
By T And J Kids. Written on 18 September.
This will be a very short article, as there is very little to talk about the user level. As you may know, along with the new update, the level cap has been raised all the way to level 100, straight from level 80. Does that mean we will finally get the Lv.80 Premium Club Trophy in LINE soon
An increase in level cap means that there will be an increase in the level bonus. This is especially helpful if you want to score more in the game, but it requires a lot of hard work to level up to the level cap. Usually, a user level of 50-60 is okay if you want to try to score high in the game. A level below than that would not be helpful. In this case, the level bonus form 80-89 is 52%, the level bonus from 90-99 is 53%, and the level bonus at 100 is 54%.
Every increase in the level cap means a new Crystal Treasure. There are two associated with this: one for level 90 and one for level 100. The level 90 Treasure is called "Lv.90 VIP Cookies' Club Trophy" and has a 6~16% chance of getting 9 Crystals on login, while the level 100 Treasure is called "Lv.100 Achieved Dream Cookies' Club Trophy" and has a 5~15% chance of getting 10 Crystals on login. Now that's a lot of Crystals!
Although this is a good move, as Devsisters had not increased the level cap since February 2015, we are not sure why they want to increase all the way to 100 instead of just a steady increase to 90. Are they deciding not to increase the level cap in the future because they have made their decision about the fate of the game? Or is there another reason behind this? We may never know.
And to conclude this article, here is the raw .png file of the level trophy treasures:

All About the Dessert Photo Event
By T And J Kids. Written on 16 September.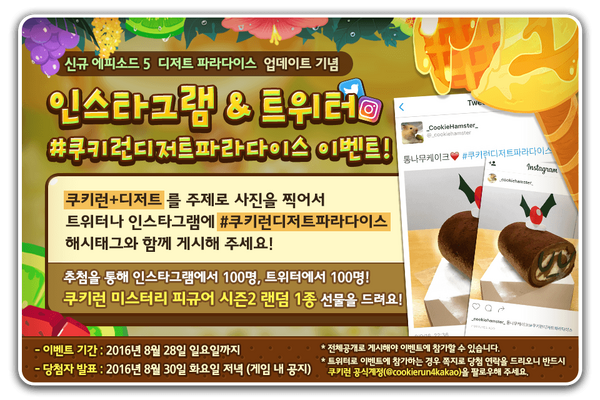 Have you every wanted to show your love of Cookie Run through a photo of food relating to a particular Cookie, Pet, or Episode? Well, August was the time for you to show your love! You can still show your love through photos now, but if you were to do it in August, you could have earned yourself a Series 2 Mystery Figure, which I have talked about in the previous issue of The CookieRunner.
To enter, just click a picture of a dessert relating to a particular Cookie or Pet, and post it either in Twitter or Instagram, with the hashtag #쿠키런디저트파라다이스 in your caption. The dessert doesn't have to be homemade; it can also be store-bought. What counts is, well, the Cookie that may associate with it!
Submitting a dessert photo with that hashtag counts as an entry in a lottery to get the Mystery Figure. 200 lucky people will be chosen from the entries listed in the hashtag, 100 from each social media. (I am not sure if photos not relevant to the event are disqualified.) The last date to submit was August 28, and the results were announced on August 30 through a private message.
It is not sure who are the 100 out of the many participants to win the prize, but one thing is for sure: Twitter account Cookie Run Updates is one of them. However, because Kakao Cookie Run is only for Korean players, there can only be a Korean shipping address and not an international shipping address. Therefore, it can be implied that this event was only for the people living in Korea and not abroad.
Although the event is over, feel free to share some photos relating to Cookie Run in any social media you have. It doesn't matter if it's for a contest; let your passion and creativity fly free.



Fan Art of the Month
Spotlight on: Pancake Cookie and Wind Archer Cookie
Twitter
Tumblr



Merchandise Updates
Whoops, there is no new updates about the merchandise. If there is any in the future, we will tell you! Stay tuned!



Questions to Discuss
Note the fan art and merchandise questions will always be the same. If you answered, you don't need to answer unless you have different ideas.
Editor's Note - Feedback about The CookieRunner

PLEASE NOTE THIS IS A VERY IMPORTANT QUESTION AS IT WILL DECIDE THE FATE AND QUALITY OF THE COOKIERUNNER. What do you say about The CookieRunner? Do you like it or do you not like it? If not, can you give any improvements the magazine would like to see in the future?
Do you like the new features added to The CookieRunner cover page? Why or why not?

The New Season: Discovery of a New World

What do you like about the new season? What don't you like about it?
Do you feel the new episode is harder than the previous four episodes, despite its three-star difficulty? Why or why not?
Some people speculated that this season will be the last season of Cookie Run before moving on to Cookie Run 2. Do you think this is so? Why or why not? If you agree that this is the last season but Cookie Run 2 is not the reason, why then?

The Two New Cookies

Do you think Roll Cake Cookie is Pancake Cookie's older brother? Or do you think it's just a mistaken speculation?
Some people have speculated that Wind Archer Cookie looks like a gem that animated series Steven Universe would create. Do you believe so? Why or why not?

Increasing the Level Cap to 100

Why do you think Devsisters decided to increase the level cap rapidly to 100 instead of a steady increase to 90? Explain.

Guidelines to Submitting a Dessert Photo

Despite that fact that the event had ended, feel free to share some photos of food relating to Cookie Run. The possibilities are endless!

Fan Art

Do you have any underrated fan art that we would like to feature in next month's issue? Please comment below!
Do you love to make artwork of Cookie Run? If so, please comment below with your artwork, which will be featured in next month's issue!

Merchandise

Do you wish to see more merchandise in the future? If so, specify the type of merchandise you would like to see as well as the Cookie(s) that will go with it.